ANDRES KÜNG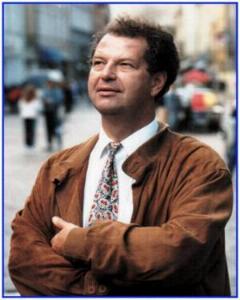 In old Tallinn, having just started the first private TV company of Estonia, EVTV(together with the Kinnevik group of Sweden), in Summer 1993.
I am an Estonian entrepreneur, journalist and writer, born in Sweden by Estonian refugee parents in 1945. I published 50 books, most on the Baltic States, thousands of articles and held innumerable lectures on why Estonia, Latvia and Lithuania should (and would) become independent again.
Independence regained, I built up a major business group in Estonia, IEG (=Info Enterprises Group), with my local partners, Viktor and Krista Siilats. We also have the dealerships for Ford, Volvo and Renault cars and Princess, Storebro and Nimbus motor cruisers.
I was married to Lena and have three children - Daniel (b 74), Emilie (b 78) and Frida (b 86).
In my spare time I love to play tennis and golf. My dream is to win Wimbledon or US Open (in golf).In my darker moments I fear that I will win neither. But seeing the Estonians, Latvians, Lithuanians and other Central Europeans regain their freedom and independence was a dream come true as well..
PERSONAL BACKGROUND:
BORN on September 13th, 1945 by Estonian refugee parents - Aleksander Küng and Regina (born Lüüdik) - in Ockelbo, Gästrikland county of Sweden
LIVES in Malmö and spends the summer in Mossbystrand (west of Ystad, on the south coast of Sweden).)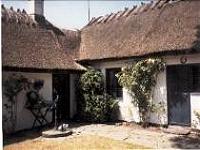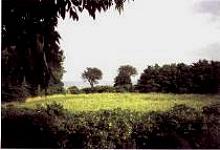 HOBBIES: reading (and writing) books, playing tennis and golf, travelling
Was MARRIED to Lena Sommer (b.1946), educated as assistant TV producer, psycho-analyst etc but stayed at home with our children.
CHILDREN: Daniel (b.1974), Emilie (b.1978), Frida (b.1986).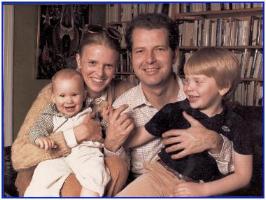 Family anno 1980 - please don´t tell Frida that I inserted a family photo with only Daniel and Emilie - but what could I do when Frida was born six years later?
Daniel has worked with video, radio and TV, in the restaurant business (=started washing dishes and now has become a really good cook). in the car business (=phones workshop customers to check if they are satisfied) and most recently as a travel guide in Cyprus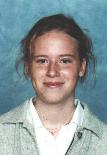 Older daughter Emilie - the only photo she has so far accepted for publication although she is much more beautiful irl(=in real life)... Studied competence sciences at Malmö and now Gothenburg University, has also worked in the restaurant business and also at Cliveden in England, furthermore studied German in Wiesbaden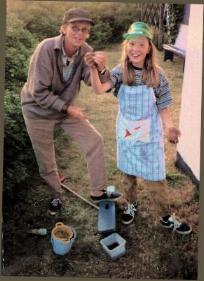 Frida and ex-wife Lena find a quarter shilling frm 1820, when excavating behind our summer house. Thus the circle is closed - my archeologue aunt always dragged me to archeological and historical museums when I was a child until I got fed up - nobody dragged Frida to such institutions and now she loves to visit the Stone Age, Bronze Age and Viking departments of Malmö museum.
On the other hand all our children - especially Daniel and Emilie - were brought along to different demonstrations. Daniel even became Chairman of the Young Liberals Union in Malmö as a teenager - and as could be expected none of our children is politically active any longer. But they have remained supporters of Baltic (and Swedish) independence: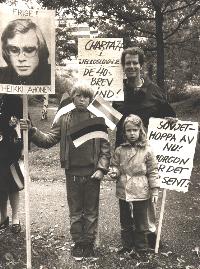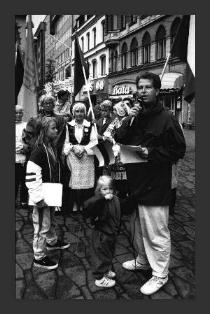 Demo for the freedom of the Baltic States and (imprisoned) Balts and other Central Europeans in Stockholm resp Malmö.To the left outside the Soviet embassy in the early 1980´s - with Daniel to the left and Emilie to the right - and to the right , in the late 1980´s, with Frida and Emilie...
RELATIVES: aunt Lili (b. 1919) ex-Director of the Museum of Archeology in Gothenburg and a number of persons in Estonia, unknown until I was allowed to visit Estonia in 1988 after having been banned for 18 years.
EDUCATION:
Estonian primary school in Stockholm, 1952-56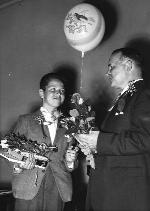 Director Uudo Juuno gives me award and flowers when I finish Estonian school after sixth grade.
Årsta and Enskede secondary schools in Stockholm, GCE in 1964,
<![if !vml]>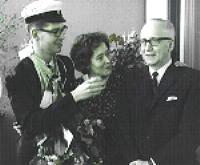 <![endif]>Father manages to smile (after considerable coaching by mother and me) - I passed my GCE at A level
Stockholm School of Economics, graduate in 1967,
Language studies at different universities in Sweden and elsewehere, e g Sorbonne in Paris (as holder of a French Government scholarship),
Hitchhiked since my teens and thus visited some 100 countries in my early 20´s,
JOURNALISM:
Editor of the daily debating program of the Swedish Broadcasting Corporation, OBS, (with later Swedish PM and UN Bosnian Supervisor Carl Bildt as one of three in the advisory group),1969-72.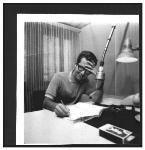 Youngest editor-in-chief of Swedish Broadcasting Corporation, 23 years and one of my first live broadcasts.
Foreign policy commentator in family program of Swedish Television 1972-82.
Editor of Christian news magazine of Swedish Television, 1970´s and 1980´s.
Columnist in a number of Estonian and Swedish dailies and weeklies - general, political and religious.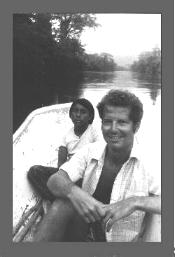 "For this Cross I´ll kill You" by Scandinavian-American missionary Bruce Olsons had become a best-seller among Christians of Sweden and other countries. In the book Bruce is depicted as an exemplary missionary, integrating the Christian creed with Indian cultural customs. But then a friend of mine, a well-known Swedish anthropologist and writer denounced Bruce as a "cultural murderer" and even murderer, having killed one of the Motilone Indians he was there to help. The Swedish publisher got cold feet and asked me to seek the truth. My wife did not support my plan to go alone into Amazonas to seek for an alleged murderer. But I went and the result was a thrillign and edifying book, that made me popular in Christian circles, especially since I found that Bruce was after all exemplary. I just wonder if I would have become as popular among Christians if I would have found that their hero was a murderer?
Written thousands of news- and opinion articles on Estonia and the other Baltic States and other themes.
Frequent lecturer in schools, congregations, associations and enterprises.
WRITERSHIP:
Written two documentary dramas for the Swedish Broadcasting Corporation´s theatre department.
Translated "By land and by sea" (Lund, Sweden 1972), a study of Estonian medical doctors-explorers, by Estonian doctor Ilo Käbin from Estonian to Swedish.
Published 55 books in Swedish, among them some 30 about Estonia and the other two Baltic States. My first book was "Latin America - reform or stagnation" (1969).We were around a dozen Young liberals who were supposed to write this book together, but one after another the others gave up and I was left with new chapters to write. It may have seemed tough at the time but was a blessing in disguise - I would hardly have dared to start a full book project on my own...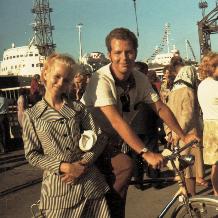 First time in Estonia - 24 years young in the summer of 1970 as reporter for the Swedish Broadcasting Corporation. I had no idea at the time that I would afterwards write a book and that it would make KGB ban me throughout the Soviet Union for 18 years. Nor could I have guessed that a KGB officer 19 years later would tell me that my bike made KGB believe that I was a specially smart spy.They were used to following suspicious visitors on foot or by car and suspected that I had brought my bike to be able to shake off my followers. In real life I was late for the boat from Stockholm to Helsinki and was afraid to leave my beloved bike on the quai in thief-ridden Stockholm. So I brought it with me on the boat first to Helsinki and then to Tallinn. So pure coincidence made me a "spy" in the eyes of my KGB case officer(s)...
Among my latest books are the thoroughly illustrated handbook "Baltikum" with prefaces by all the three Baltic presidents of the time, a semi-academic study on relations between Sweden and the Baltic states (and provinces) through the centuries, both published in 1991, and personal travel guides to Estonia, Tallinn, Riga (together with Argita Daudze, now of the Latvian Foreign Ministry) and Vilnius (1990 resp. 1992). Most recent book "Helig dåre" (Holy maniac), poublished in May 2001, on Swedish Pentecostalist successful work among alcoholics and narcomans.
Several of the books have been published in Finnish, some in Estonian, Latvian, Lithuanian, English, German, Norwegian, Icelandic, Polish, Russian, Japanese and Korean.
Member of the Writers Associations of Sweden and Estonia, ex-Chairman of the Swedish Immigrant Writers Association 1984-86 and ex-Board Member of the Estonian Writers Cooperative in Lund, Sweden.
See also my commented book list.
POLITICS:
Liberal Students Union, Stockholm, Chairman 1966-67.
Young Liberals, Deputy Board member 1970-71.
Liberal Party Board, member 1982-91. Here with party leader Per Ahlmark, in his office and with his successor, Bengt Westerberg, after the Baltic Peace and Freedom Cruise, 1985.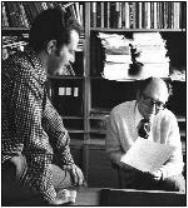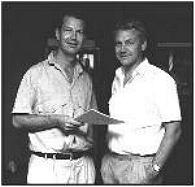 Liberal Party International Fund. Chairman, 1982-1991.
Svedish Parliament, Acting Deputy member 1982.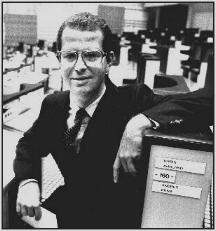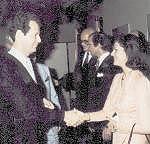 Küng with Queen (Silvia of Sweden) in Brazil 1984. Real King somewhat in background this time...
Estonian Liberal Party (in Sweden), Board member since 1973.
Estonian Liberal Party (in Estonia), Founding member 1990; party is now called Reformierakond (Reform Party) and has participated in Government.
"Exile Parlament" Estonian Representation in Sweden, Member since 1977, highest number of votes (together with another journalist/ writer Ülo Ignats) in most elections from the 1970´s through the 1990´s.
Estonian Chairman for the Baltic Peace and Freedom Cruise (BPFC) during Summer 1985. To the left my then 11 year old Daniel with a Latvian "fellow prisoner", Atis Lejins (US born researcher with the Foreign Policy Association - first in Stockholm and then in Riga, whose book "Gäst hos KGB" (Guest at KGB´s, Stockholm 1983 I had prefaced). To the right my wife with Daniel and my then soon-to-be 7 year old Emilie: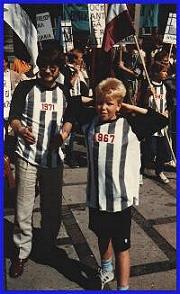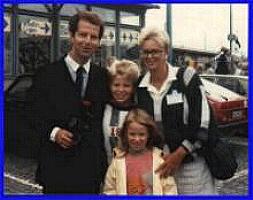 Member of several other Estonian and Baltic organisations like students´ corporation Vironia, Association for the Advancement of Baltic Studies (AABS), Estonian Committee, Estonian Information Center and Swedish-Estonian Friendship Association.
Congress of Estonia, elected Member in Spring 1990 with highest number of votes among all Swedish-Estonian candidates.
Advisor to Estonia´s "President" (more correctly Chairman of the Presidium of the Supreme Soviet of Estonia) and Government.
One of the four founders of the Monday movement for the support of the Baltic nations, 1990-92.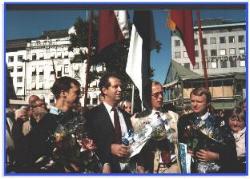 The last meeting with the Monday movement together with the other founders. The first meeting was spontaneously organized at a central square in Stockholm, Norrmalmstorg, in March 1990 and the last one in September 1991when Estonia, Latvia and Lithuania had regained their independence. Every Monday at 12 am we gathered - 79 Mondays in a row. To begin with only in the capital and then all over the country. The speakers came from all the Baltic and Nordic and several European countries, the US etc. the Monday movement probably contributed to the change of mind of the Swedish Government, from negative to luke-warm to quite warm support for the peaceful freedom struggle of their long forgotten Baltic neighbours. From the left Liberal MP Håkan Holmberg, me, Gunnar Hökmark (then Conservative MP and later also Party Secretary) and Peeter Luksep (then Conservative MP and now Chairman of the Union of Swedish Estonians).
Amnesty International, Deputy Board member in the Swedish Section in the early 1970´s.
Resistance International (RI), Chairman of the Swedish Section, 1984-86.
Svedish Immigrant Writers Association (SVIFF), Chairman 1984-86.
Freedom of Sweden, Chairman from the founding of this civil rights organization in Autumn 1985; after the merger with a similar organization Deputy Chairman 1988-90 and Chairman 1990-93 of the merged organization, Citizens Rights Movement Freedom of Sweden (Medborgarrättsrörelsen Friheten i Sverige).
Member of a number of organizations from and the East European Solidarity Committee to the Swedish Writers and Journalists Associations.
Lobbying for the freedom and independence of the Baltic nations with great personalities (but small persons): from left President/ poet Léopold Sédar Senghor of Senegal, former US Foreign Secretary Henry Kissinger and Swedish Prime Minister Olof Palme (who was not very heroic in Baltic question, especially given the fact that his own mother was born in Latvia):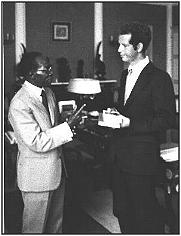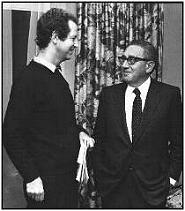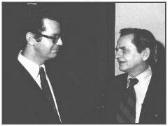 AWARDS:
Cultural award of the Estonian Committee of Sweden since I was regarded as the "unquestionably most successful and deserved creator of public opinion in Estonian matters", 1974.
Honorary member of the underground Democratic movement in the Baltic States, 1977.
Life-time writer award from the Swedish Writers Union (can be awarded to writers who have been working as such for at least ten years and published at least ten books and who show "a high and rising curve of quality"), 1978.
Herbert Tingsten Award, 1979 (HT was a leading Liberal political scientist, writer and editor-in-chief in the post-Second World War decades).
First Aleksander Kaelas Award, 1980 (in memory of my uncle AK, who wrote several broschures on Soviet Estonia that were published by the Foreign Policy Institute of Sweden.
Freedom Prize and honorary life membership of the Croatian National Union (of Sweden) for my "long-time active support for the cultural interests of the Croatian minority and for (my) concern for human rights in Croatia", 1983.
Freedom Prize of the ultra-liberal journal Contra for my "broad efforts to inform the public opinion about and engage it in matters regarding human freedom and dignity.This work has been founded on facts and persistent and built on wide knowledge. Since the message has been clearly and simply formulated it has penetrated the media and thus positively changed Swedish public opinion in these matters. Andres Küng has been especially successful in informing about the situation of the Baltic States, our until then almost forgotten neighbours, and Latin America", 1984.
Cultural Award of the Estonian "mini-parliament", the Estonian Representation of Sweden, 1984.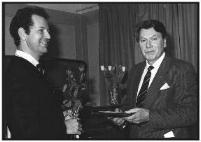 Receiving the Cultural award from the Chairman of the Estonian Representation of Sweden, Mr Rudolf Schmuul.
Ervin and Eili Nômmera Award for "especially successful participation in the freedom struggle and political activity of Estonia", 1985.
Estonian Students Association (EUS) Award, 1986.
Honourary Diploma of the Hungarian Union (of Sweden) on the occasion fo the 30th anniversary of the Hungarian Revolution in 1956, 1986.
Award of Estonian TV program Dialog for my "dialogue with the Swedish Government" (after I had reprimanded Foreign Minister Sten Andersson for his less-than-successful statements during his first visit to the then still Soviet-occupied Baltic States), 1990.
Honourary Diploma of the Latvian Central Council (of Sweden) for my "remarkable contributions to the struggle for LATVIA and the freedom aspirations of the Latvian nation.
Diploma of the Estonian Ministry for Education for "humanitarian assistance to education in Estonia", 1992.
Congratulatory letters from the President and Prime Minister of Estonia on my 50th birthday, 1995.
Received the highest state award of the Republic of Latvia, the Three Star Order, in November 1998 from President Guntis Ulmanis and the White Cross Order of the Republic of Estonia from President Lennart Meri in February 1999.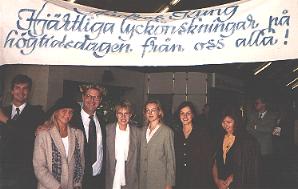 My 50th anniversary party, on September 13th 1995, began at home in Malmö and continued in Tallinn. In the airport I was received with the same banderoll that had surprised me on my 45th birthday - arriving with a large Swedish delegation in Tallinn harbour. But some of the staff was new this time: from left to right vice CEO Kaur, marketing director Kadri, secretaries Eve and Ülle, bookkeeper Merje, financial director Piret. Among other promising collaborators present were...
Krista and Viktor (Siilats; my partners and co-owners):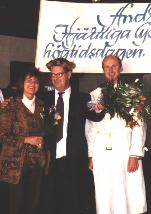 The orchestra needed no conductor.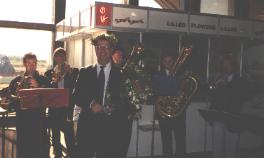 ESTONIAN COMMITTEE IN SWEDEN
AWARD TO ANDRES KÜNG
The Board of the Estonian Committe of Sweden
at its meeting on March 6th, 1974 decided to present
the Estonian Committee Award...to Andres Küng
Andres Küng, writer and journalist, is undoubtedly the most successful and deserved informer of public opinion on Estonia.
In many newspaper articles, and especially in his resp. books that have so far been published in Swedish, German, Icelandic and Estonian, he has with remarkable skill described the contemporary problems of Estonia with perspectives into history and future.
A.Küng´s books are written in a lively style and are based on thorough research. Küng´s writings are characterized by succinct style and the fact that he describes matters with which he is well acquainted.
There is nothing in international literature on Estonia, comparable to Andres Küng´s books, nor to his other publicistic activity in these matters.
Stockholm, March 30th, 1974
A.Reintamm, Chairman
H.Mark, Head of Office
Mr Mark, then Acting Prime Minister of the Estonian exile Government and later Acting President in exile, has lived in Sweden since the Second World War but was never allowed (by the Swedish Government) to fulfill his functions as Acting PM or President from Swedish territory (since Sweden had recognized the Soviet annexation of the Baltic States). I was offered the post as Minister of Culture in the exile Government, but declined to be more effective as an independent writer and journalist. That Mr Mark is also my godfather hopefully did not affect the decision to present me with the above-mentioned award...
CONGRATULATORY LETTERS
FROM THE PRESIDENT AND PRIME MINISTER OF ESTONIA:
"Prime Minister of the Republic of Estonia
Respected Mr Andres Küng!
Best wishes on occasion of Your 50th anniversary. Energy and joy of life for the following lond decades in private life, success and joy of work in business life!
Greetings,
Tiit Vähi"

The letter from the Prime Minister was presented by the Prime Minister-to-be, Mart Siimann, although at that time he hardly knew he was next in line...
Present were the three ex-Prime Ministers:Indrek Toome, Edgar Savisaar and Mart Laar: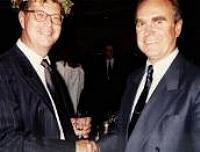 ..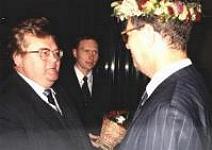 ..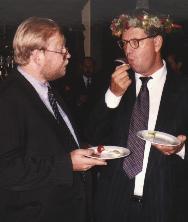 " President of the Republic
Dear Andres Küng,
You were always among those, who believed in Estonia and proved it in word as well as in deed. On Your 50th anniversary the Republic of Estonia thanks You for what You have done and wishes You continuing happiness, health and go!
Your
Lennart Meri
Stockholm September 13th, 1995"
<![if !vml]>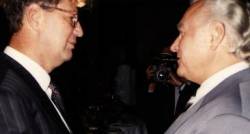 <![endif]>The President of the Republic visited my other homeland, but his predecessor was home in Estonia and present at the party.
BUSINESS LIFE:
Owner and CEO of consultation firm Andres Küng AB and travel agency Estlandsresor AB (1991-97). Chairman of the Council of the Estonian business group Info Enterprises Group (IEG), owned and managed together with my Estonian partner Viktor Siilats and his wife Krista. IEG consists of eg:
- fully owned video firm Eesti Video (EV; Estlonian Video), that in 1993 became main owner of Estonia´s first privately owned TV company EVTV that later became main owner of TV3 Estonia,
- Balti merekaatrid (BMK;Baltic Motor Cruisers), dealer for Nimbus, Storebro, Princess and Bayliner,
- Market Economy Center (MEC; department within IEG), organizes conferences, press conferences, market studies etc.
Chairman of the Council for fully owned Info Auto (IA), dealer for Ford and Volvo Cars and Volvo Penta and importer for Renault).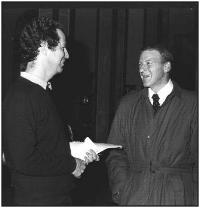 With PGGyllenhammar, then President of Volvo, while I was writing a book about him and Volvo.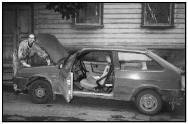 My partner with a Soviet car...

and with a Swedish car outsidea corner of our then recently inaugurated premises in Tallinn.
Together with Viktor main owner of the leading news agency of the Baltic States, the Baltic News Service (BNS) until we sold our shares to Scandinavian media groups Bonniers of Sweden and Sanoma of Finland.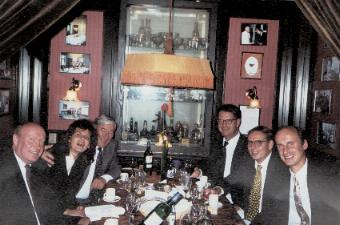 Intrum Justitia AS in Estonia was founded on the same day in September 1995 that I had my 50th anniversary reception - and in the same restaurant, Gloria of Tallinn.From left international Intrum´s CEO Lars Rohwer from Amsterdam, Krista Siilats, international Intrum´s creator and main owner Bo Göransson from Winchester (England)/ Dalarö (Sweden), me, Finnish Intrum´s CEO Thomas Feodoroff and Viktor Siilats; some years later we sold our shares to international Intrum.
More companies being formed.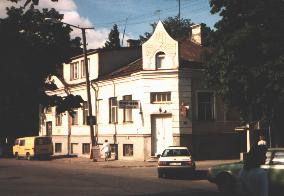 IEG: headquarters were for several years situated at Tatari 54, right behind the Hansabank head office in downtown Tallinn.
---
You can contact me by:
fax +46 40 98 40 42